"But he who looks into the perfect law of liberty and continues in it, and is not a forgetful hearer but a doer of the work, this one will be blessed in what he does." James 1:25
Va'yelech – וילך : "And he went"
Torah : Deuteronomy 31:1-30
Haftarah : Isaiah 55:6-56:8
Gospel : Luke 24:13-43
The Perfect Law of Liberty
So Moses wrote this law and delivered it to the priests, the sons of Levi, who bore the ark of the covenant of the Lord, and to all the elders of Israel.  And Moses commanded them, saying: "At the end of every seven years, at the appointed time in the year of release, at the Feast of Tabernacles, when all Israel comes to appear before the Lord your God in the place which He chooses, you shall read this law before all Israel in their hearing. Gather the people together, men and women and little ones, and the stranger who is within your gates, that they may hear and that they may learn to fear the Lord your God and carefully observe all the words of this law, and that their children, who have not known it, may hear and learn to fear the Lord your God as long as you live in the land which you cross the Jordan to possess." Deuteronomy 31:9-13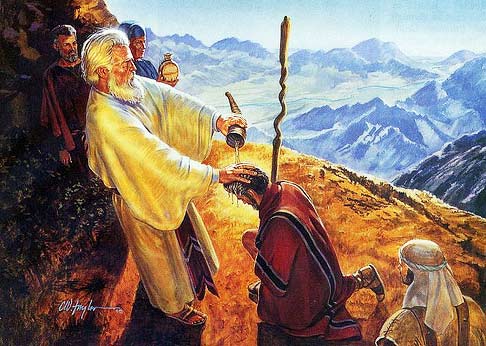 Moses is about to die. In the last month of his life he summarizes the exodus experience and the gift of God's word, the Torah. The Lord instructs Moses to present the children of Israel with a choice. The choice is one of blessing or curses, it is one of liberty or slavery, this choice is a choice of life or death. Moses calls up Joshua to anoint him as the new leader of Israel, Moses encourages Joshua to be strong and of good courage.
It is at this point that Moses entrusts the Law to the priests responsible for the Ark of the covenant. He also instructs them to read God's Torah (from Genesis to Deuteronomy) every seven years, the year of release, during the Feast of Tabernacles. Don't let that slip by you. Every seven years there was time for debts to be forgiven and the land was to rest. The Feast of Tabernacles is the time when God comes to live among man.
This is important. At the time that God draws close to man, man is to draw close to God. Jesus is the living Word of God who came to live among us. It follows that if we desire blessings and liberty and life we should be active in seeking the will of God as found in His word. The reason many so-called Christians do not hold a biblical world view is that they do not allow their doctrine and beliefs to be shaped by the perfect law of liberty found in the mirror of God's word.
http://fbcmagdalena.com/wp-content/uploads/2012/09/joshua-anointed-by-moses.jpg
346
486
Pastor Paul
Pastor Paul
2012-09-19 11:30:03
2012-09-25 17:17:15
The Perfect Law of Liberty